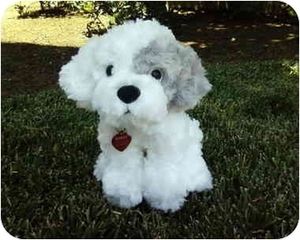 FLUFFY (Adopt)
For those of you who want the perfect dog, Fluffy is your girl! She is perfectly house-trained, she doesn't jump, cry, or scratch at the door. She won't chew up your slippers, she's not a barker or a digger, and she has impeccable manners. She likes to sleep with you (but is also content in her crate), and she will ride quietly in the car for hours. She doesn't eat much (she's already stuffed!), she loves to cuddle, and she gets along great with everyone!
Obviously Fluffy is not real, but for those of you who want a REAL dog, one that will be your loyal companion and lifelong protector, one that will love you unconditionally until its last breath, we have some wonderful dogs who would love to meet you!
The simple truth is -- no dog is instantly perfect. If you want a dog that will never bark, jump, dig, chew, has perfect manners, and is 100% house-trained on day one, then please adopt Fluffy (or one like her).
A rescued dog can bring a lifetime of love and devotion, but in the beginning some may require a little extra effort on your part. Some of these dogs have been abandoned, abused, starved, hit by cars, or simply neglected by the humans they once trusted. Their worlds have been turned upside down beyond their ability to understand, and most will require some time to adjust. Some may need a refresher course in house-training. And, after being abandoned, some may have separation issues and will need help to feel secure.
It may take two weeks or it may take six months, but these issues can all be overcome with a little love and patience (and we're always here to help in any way we can). You will then have your perfect dog, and a true Best Friend Forever.
If you wish to sponsor Fluffy, your donation will help the real dogs in our care, and is tax deductible. (
Donate
) Thank you for your support! 
_________________________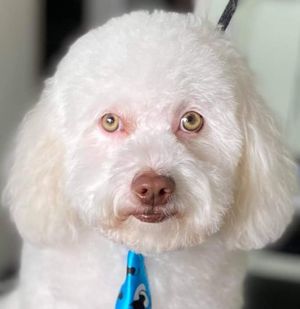 Moe (Adopt) Fostered in Henderson
Moe is a 3-year-old Maltipoo. He has the most gorgeous green eyes, and he weighs about 15 lbs.

He tends to be scared and anxious of strangers and new surroundings at first. He will bark at strangers, especially males. But he is totally loving and cuddly once he gets to know you.

He's fine with older children, and does very well with other small dogs.

The best home for Moe would be one that has another small dog to keep him company and to reassure him. Also, it would be better if the main "parent" for him is a female, since it takes a little time for him to warm up to males.
Would you be interested in fostering? Fostering is temporary -- most of our dogs get adopted within a few weeks -- and it is also life saving. We cannot bring a dog into rescue unless we have a foster home available. 
In a nutshell... the dog would live with you and be treated as a family member, just like you would treat your own dog. You will provide food and whatever he needs on a day-to-day basis (bedding, playtime, walks, etc.). We will pay for vet care (exam, spay, vaccinations, microchip, de-wormer, flea treatment, etc.) and he would likely have all of that when you get him. If, by chance, the dog gets sick or injured, you take him to our vet for treatment and we will pay the vet. We will provide a collar, leash, and K9BFF ID tag. If you encounter any problems with your foster dog (for example, if he doesn't get along with your resident dog or cat), we will place the dog into another foster home.
You will have input as to who adopts him because you will know him better than anyone. 
The best part of fostering is that if you happen to fall in love with the dog you are fostering, you have first choice to adopt!
If you think you might like to give fostering a try, please complete the
Volunteer
 form and we will be in touch! Thank you!